Features:
These mantles exhibit the quality and craftsmanship of this company. This particular model is very elegant and has a unique design. They are all hand-crafted with quality procedures and top grade material.
It is uniformly designed with precise workmanship and excellent construction. The mantle achieves an impresssive presence and is quite a conversation piece which compliments any home decor. The mantle's foremost characteristic consists of a CURVED face with a CURVED top and CURVED trim.
Other features include:
Beaded Corners
Fluted Legs
Superior Mitre Joints
Fine Detail
Quality Material
Construction:
The paint grade mantle is constructed of Poplar, veneer core Birch plywood, Luan plywood backing, and Pine blocking. There is no MDF or foam anywhere within the mantle. All mouldings, straight and curved, consist of Poplar wood.
The Oak and Cherry mantles are constructed of selected hardwoods, veneer core plywood, Luan plywood backing, and Pine blocking. All mouldings, straight and curved, consist of selected hardwoods.
All mouldings are glued at all joints. Finished nails are used on all front mouldings. Glue blocks are used to increase the quality and strength of the mantle. There is a difference of 5/8 " between the inner side of the leg and the outer edge of the mantle. This allows the mantle to sit flush against the wall on the outside and flush against a tile applied on the wall on the inside up to 5/8".
The mantle is shipped in three parts,(the 2 legs and the 1 top shelf). Both legs are attached to the top piece with screws, (included).
Price:
Unfinished paint grade: $687 + $125 shipping
Unfinished stain grade: $697 + $125 shipping
Paint grade with 1 coat of sealer and 2 coats of white paint: $787 + $125 shipping
Oak unfinished: $787 + $125 shipping
Oak stained Minwax Golden Oak with 2 coats of finish: $987 + $125 shipping
Cherry unfinished: $950 + $125 shipping
Cherry stained Minwax Cherry with 2 coats of finish: $1097 + $125 shipping
1/2" x 1 1/8" Trim Package material is available for $20
Virginia residents must add
5% sales tax
EXPRESS SHIPPING and INTERNATIONAL SHIPPING are available. Please e-mail us for exact quotes.
---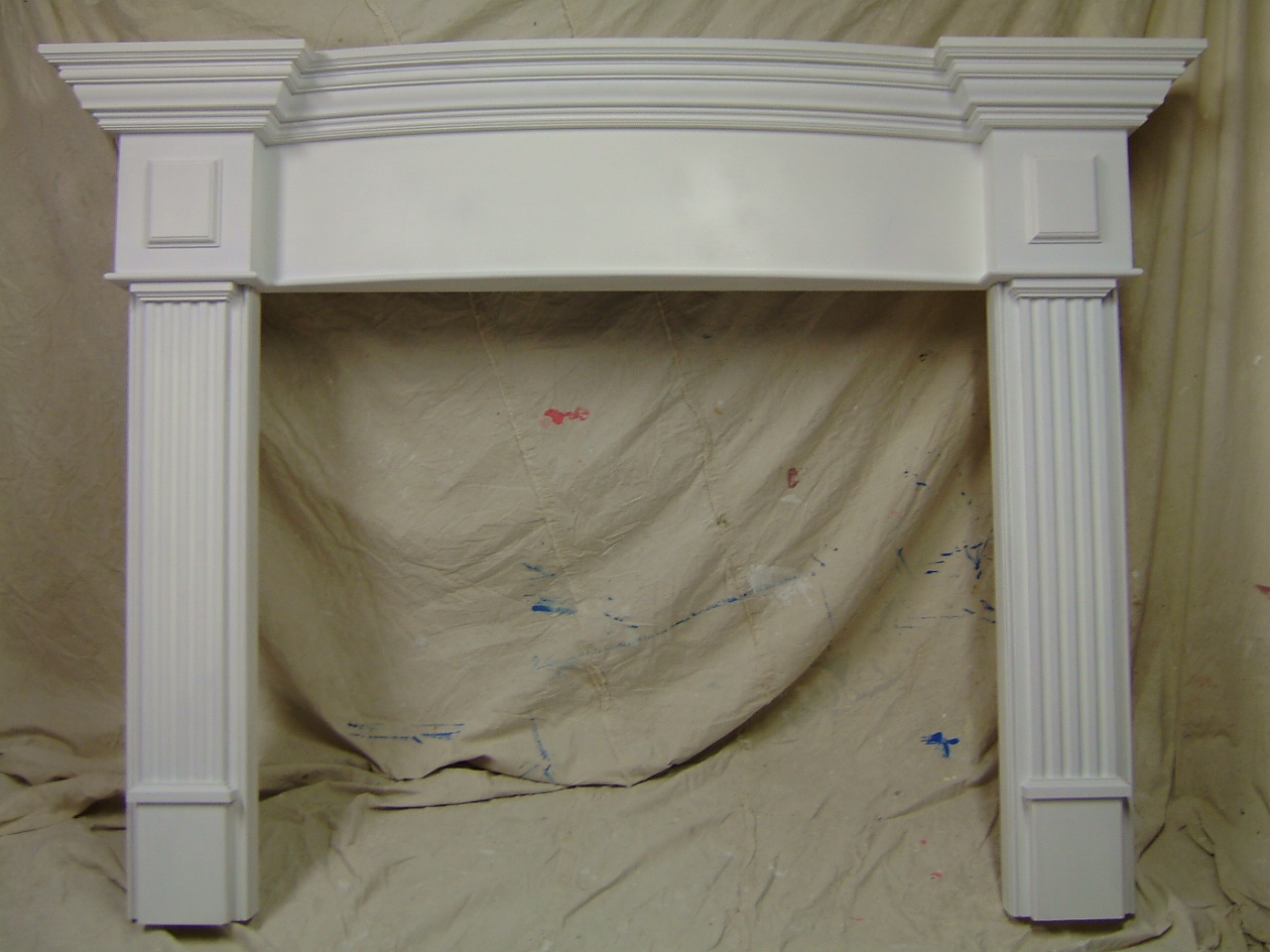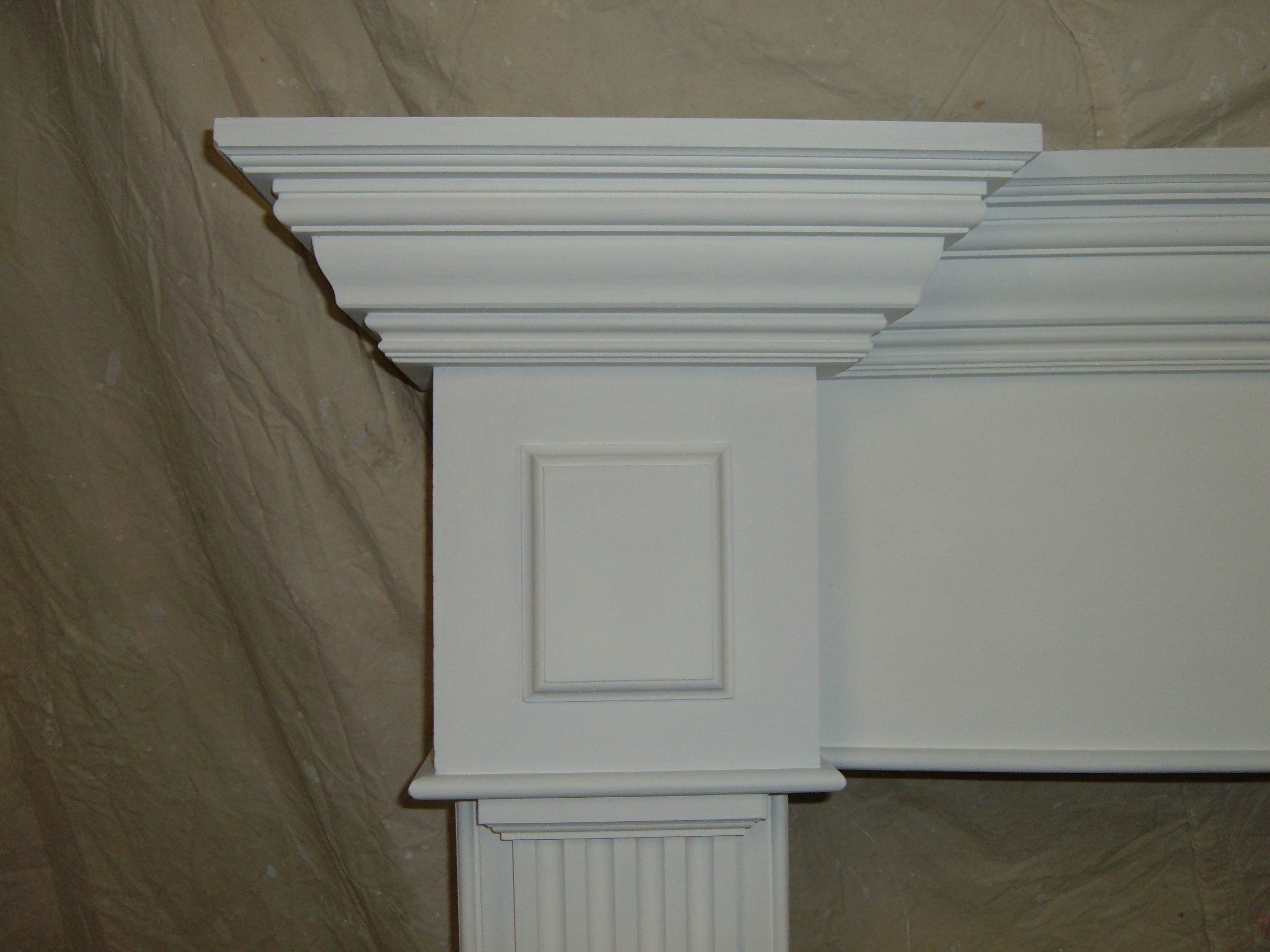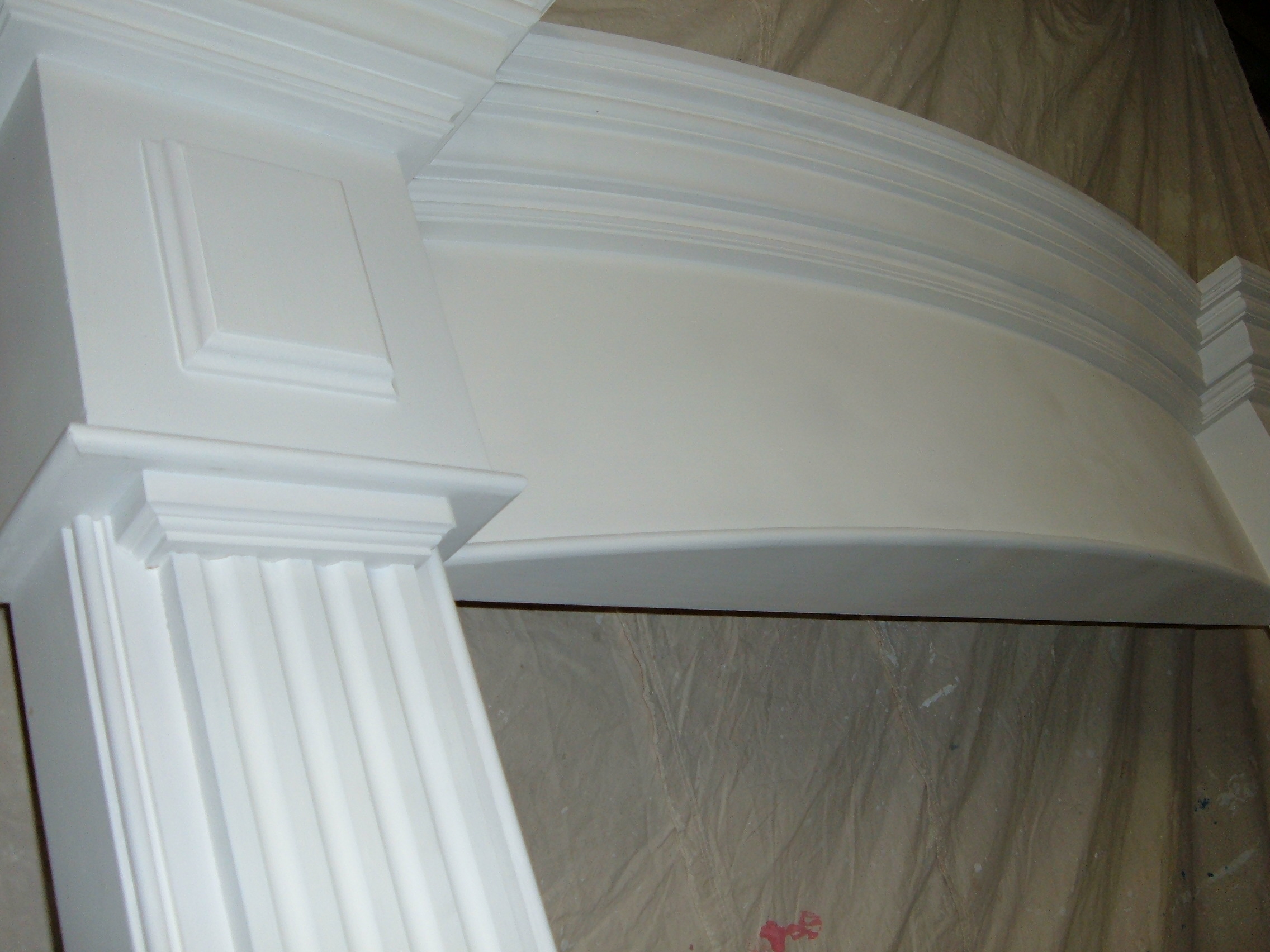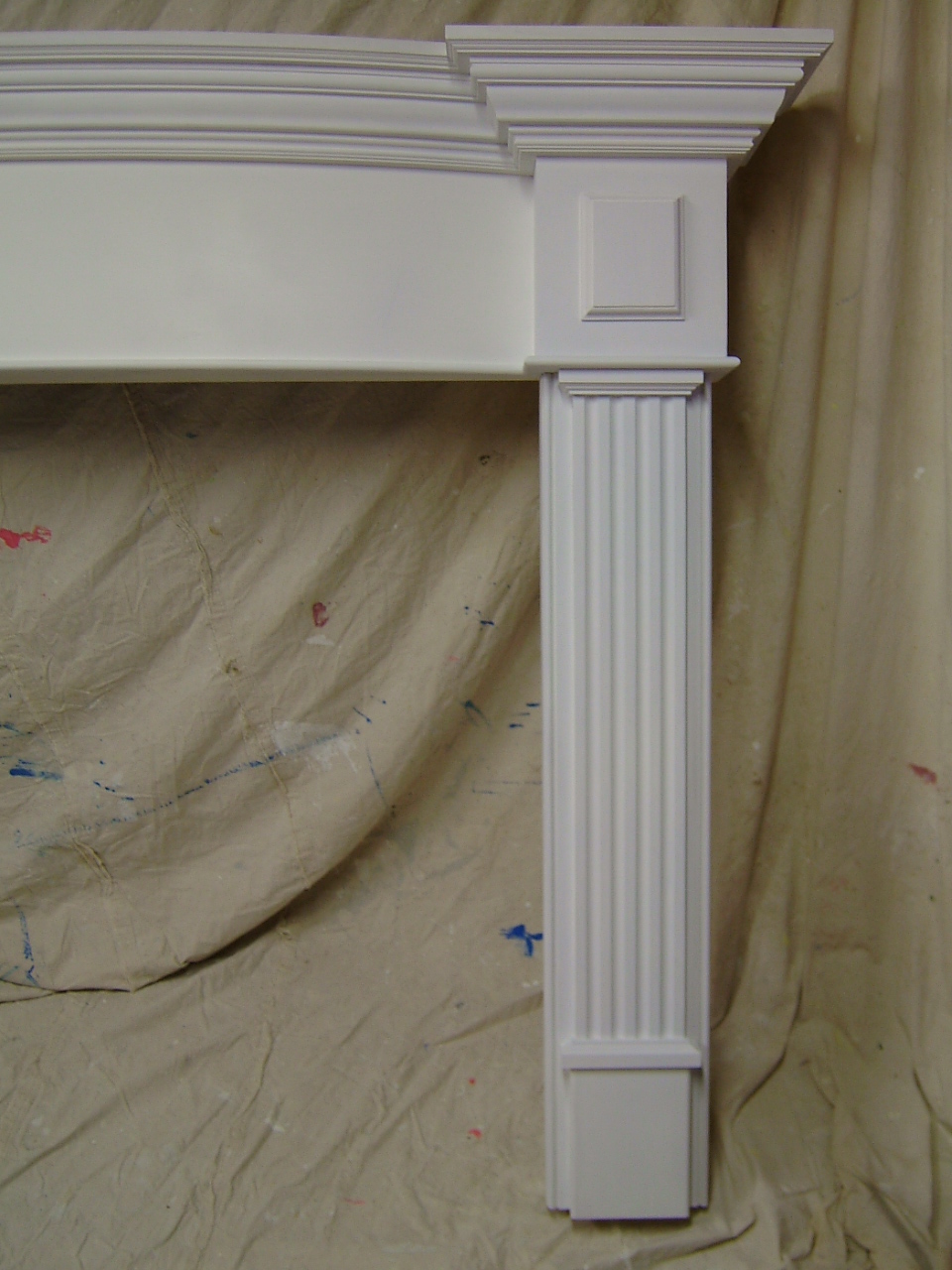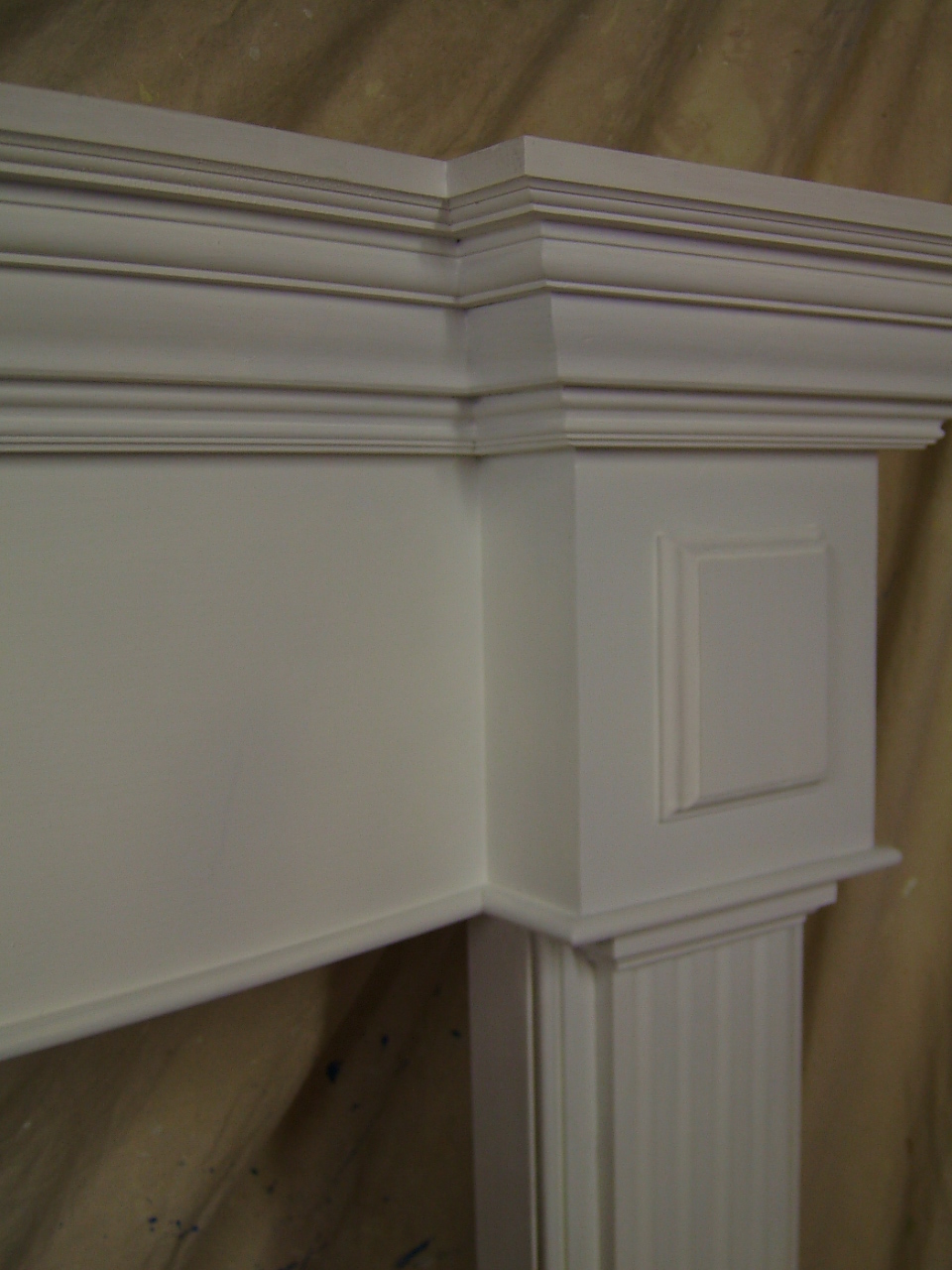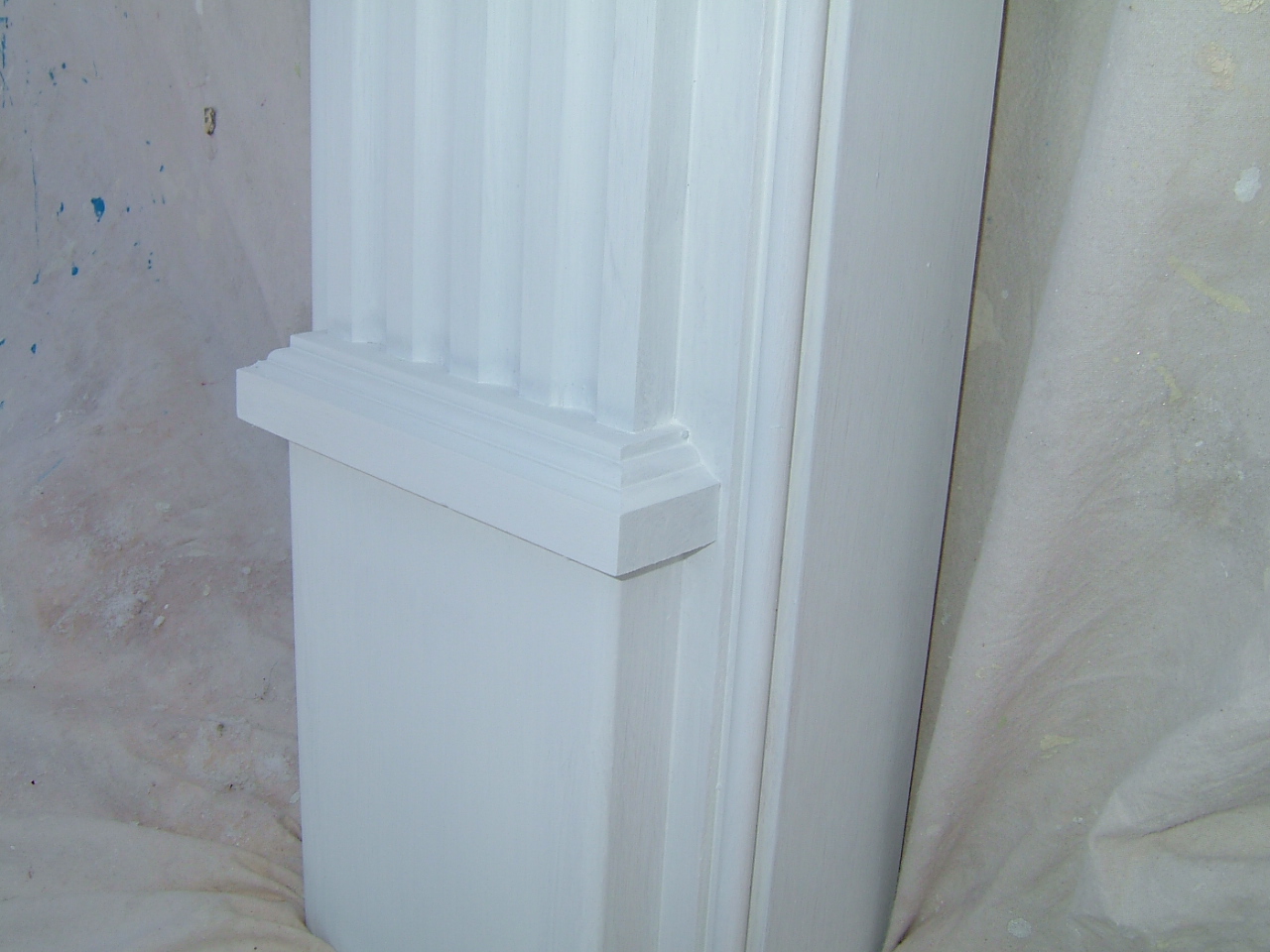 Sizes:
All mantles are ordered by their "inside" dimensions. Stock mantle sizes are as follows in inches:
Inside Widths: 47 3/4"
Inside Heights: 36, 40 1/2, 41, 44, 46
PLEASE NOTE that the inside width measurement DOES NOT include the trim package, which if used, the actual dimensions would be 1" less from the inside width and 1/2" less from the inside height.
Any combination of stock widths and stock heights can be ordered for each mantle
For Overall dimensions, they are as follows:
Overall Width: Add 22 1/4 inches to the inside width measurement.


Overall Height: Add 13 inches to the inside height dimension.


Custom sizes and hardwoods can be obtained. Please e-mail inquiries to me at:
Kevin@TheLumberShop.com
The Top: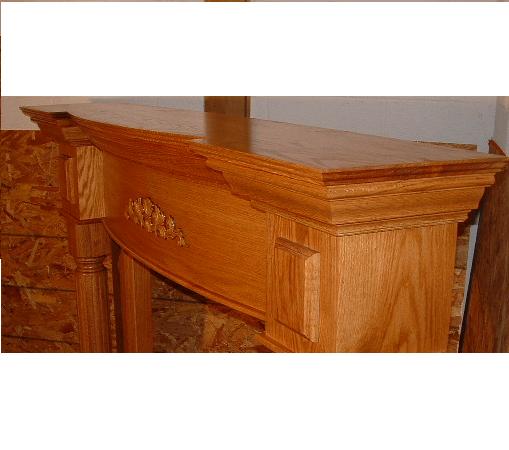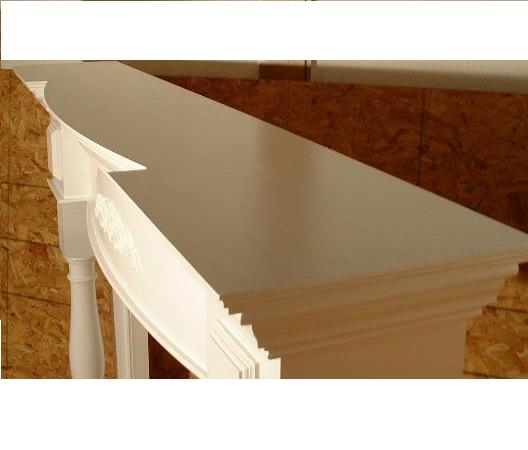 The top is curved also and follows the
same arc as the curved crown mouldings below it.
Styles:
Paint Grade
Maple
Oak
Cherry
Common Pine Country
Quartered White Oak
Email:
Company:
The Lumber Shop .com
Amherst, Virginia 24521 USA